Over the past few years the market of digital medium format solutions has significantly concentrated to defacto two providers: Hasselblad, who provide a proprietary (i.e. closed) system, and PhaseOne, who are open to all solutions and camera systems (this is one of the reasons why we are cooperating).
Both have the DSLR form factor in common which provides advantages for the view finder. On the other hand, because of the necessary retrofocus this limits the needed high quality lenses to few available choices. Especially on the wideangle side of focal lenghts below of 28 mm, users need to use expensive viewcamera lenses with built-in shutters. Despite the expensive price, there are no lenses below 23 mm.


HCam-B1 with Canon 17mm TS - Worldrecord 125 degrees image angle !
If a MF photographer wants to use larger image angles, there are no choices besides 35mm DSLRs. But this comes with limitations in resolution, in handling (shift, swing and tilt) and in price, because all the items of his already existing equipment will not fit to the 35 mm body and need to be purchased again.
On the other hand is an upgrade to MF from 35 mm today a cost and time consuming task. You can spend easily five figures amounts to get up and running, and it also will take considerable time.
Because of this Hartblei was intrigued by the thought to connect the worlds of 35 mm and MF.
Our Superrotators are originally MF lenses of the Hasselblad V System and offer image circles way bigger than 80 mm and up, delivering enough resources to even use shift and tilt movements on most smaller backs.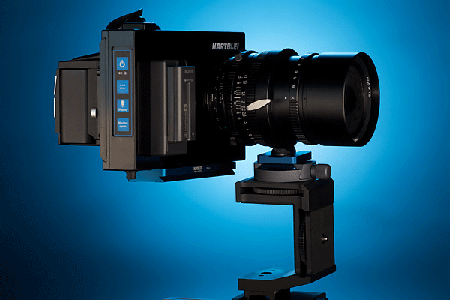 The HCam-B1 in action
So we decided to build a camera by ourselves. The camera should be completely open for all MF backs on the market and should use a 35mm lens mount as an interface to support all lenses, no matter whether 35 mm or MF. The plan was to give access to extreme wideangles down to fisheyes or superteles and while maintaining a reasonable price offering (i.e. below 6000 € with TTL spot finder plus electric Film-/D-Backslider).
In short: as there was none on the world market, the camera needed to be built from scratch.